This week on Growing Up in the South, I'm changing it up a bit. Instead my usual tale from the South, I am interviewing good friend and author, Kathy Boyd Fellure. Kathy is the author of four children's books, and the On Water's Edge Tahoe Trilogy. In this interview, we ask Kathy about Lake Cottage Book Haven, which is part two of this trilogy and will be released on July 6th.
Kathy is a member of CWC, ACFW, and is the founder of Amador Fiction Writers. She hosted, wrote, and produced the TSPN TV show, Authors, Writers, Books & Beyond from 2012-2015.
Kathy has also served as a judge for the NCPA book awards in 2017-2018. She guest speaks, teaches at writer conferences, hosts an annual literary read, and is a photographer. Kathy Boyd Fellure currently lives in the foothills of Northern California with her family and three stand-up comedian dogs.
You can visit Kathy's website by clicking here, and follow her on Facebook, Twitter, and Instagram. If you'd like to purchase the first book in the On Water's Edge Tahoe Trilogy, you can do so at Amazon by clicking here. We're also giving away one free copy of Lake Cottage Book Haven to one lucky reader. Join our mailing list (at the bottom of the page) for more details!
Read on to learn more about Kathy and her new book, Lake Cottage Book Haven.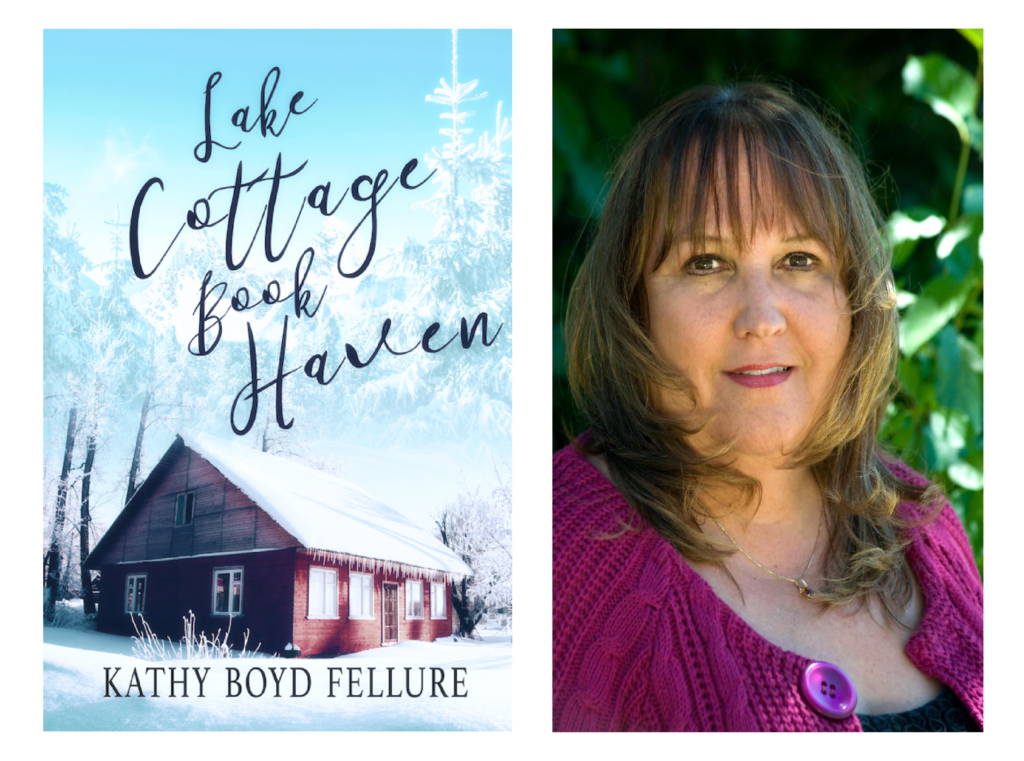 ABOUT LAKE COTTAGE BOOK HAVEN
Lydia: Tell us a little about your upcoming book.
Kathy: Lake Cottage Book Haven is about a bookstore owner, Emily Conner, who struggles to save her business from financial ruin. Her husband Jack's loans from medical school are due, and a large sum of money from the town fundraiser intended to save Lake Cottage Book Haven disappears from her car.
Even more disturbing, a mysterious stranger is tracking Emily, staying one step ahead of the police. Derrick Thomas, the handsome lead investigator in the case, complicates matters. Putting aside their mutual distrust, both men try to protect Emily before the stalker closes in. If she survives, will Emily choose to betray the man she once thought betrayed her?
Lydia: Tell us about the setting of Lake Cottage Book Haven.
Kathy: Tahoe City, Lake Tahoe, California. The characters travel between Tahoe, Truckee, and towns in Nevada.
Lydia: Does Lake Cottage Book Haven carry a message?
Kathy: The message is one of second chances through the worst that can happen, then unexpected troubles start stacking on top of that. Hope in the storms in life, both spiritual and physical, through faith that grows by surrendering fears to God.
Lydia: Where did you get the inspiration to write this book?
Kathy: My dear author friend, John Clewett, pen name, Jon Stenhugg encouraged me to write a mystery. He also introduced me to the police I interviewed for two of my novels. My Mt. Hermon mentoring class teacher, James Scott Bell, was also an inspiration. And of course, Lake Tahoe is always an inspiration.
Lydia: What is something you edited out of the book?
Kathy: The entire original concept with two people from Canada. They disappeared after I wrote the first few chapters, and they never reappeared. Other people and circumstances took over the story, so I rewrote the beginning.
Lydia: What was the most surprising thing you learned in creating Lake Cottage Book Haven?
Kathy: About twins. I learned a lot that I never knew before. All quite interesting. Read the book and you will learn too!
Lydia: Have you seen any miracles that you would care to share in the making of this book?
Kathy: Many! People God brought across my path and me across theirs. God raised up intercessors to pray me through. Many times I had ill children or I was helping care for my mother, and my husband's mother in the early writing stages. They had Alzheimer's and dementia. It is very emotionally and physically demanding, and spiritually heartbreaking. That I ever finished is something of a miracle.
ABOUT KATHY BOYD FELLURE AND THE WRITING PROCESS
Lydia: Have you ever experienced writer's block? If so, what did you do to overcome it?
Kathy: Not with this book. I had too many ideas floating around in my head. It was just hard to leave the first story behind. Not really with the third book either. I finished it three years ago. Then I started a fourth novel with all new characters that travels between England and America. My mother had just passed away and it was hard to get grounded again for a while.
Lydia: Do you feel God's presence when you write?
Kathy: Always. I pray first, in the middle and after. I am never not praying when I write. I could not write any other way.
Lydia: Where do you get your ideas?
Kathy: Everywhere. I read all the time. And I observe people––what they wear, how they talk, their quirks, ticks, uniqueness. And tons of research!
Lydia: What kind of research do you do, and how long do you spend researching before beginning a book?
Kathy: I like to travel to the location I am writing about, if possible. I cannot begin to measure the hours of research, mostly personal interviews, location, library visits, (I love librarians!). Online is a last resort.
Lydia: How many hours a day do you write?
Kathy: That varies. I use the James Scott Bell suggestion to write 1,000 words a day. I don't write on Sundays. So there are days that I start writing and crank out 1,000 – 5,000 words. Then there are days I miss or only eek out a couple hundred words.
Lydia: What inspires you to write?
Kathy: Love. I have loved to read and write since I was seven. I cannot quit either, both are a part of my being.
Lydia: What is your take on the importance of a good cover and title?
Kathy: The cover and title are critical in my opinion. I LOVE my debut novel cover and title.
Lydia: Tell us about your writing style, how is it different from other writers?
Kathy: I have been told I have a unique lyrical, poetic voice, and that there was an actual musical flow to my debut novel. That can get me in trouble too. Critique groups help.
Lydia: Is there anything you are currently working on that may intrigue the interest of your readers?
Kathy: My WIP is about a house in England that is not haunted, but alive.
Lydia: How did it feel when your first book got published?
Kathy: Like a dream come true! It was a deeply emotional experience.
Lydia: What is your motivation for writing more?
Kathy: Still have more stories in my head. I think I always will.
Lydia: Do you know the end of your book before you start writing?
Kathy: Sometimes. Other times it is a big surprise. I added the final chapter to my first book after I hit send to my literary agent.
Lydia: Do you keep a folder for your ideas?
Kathy: Folders, boxes, scraps of paper, index cards, napkins written in lipstick because that was all I had at the time, computer files, journals…
Lydia: What books do you like to read in your free time?
Kathy: Fiction… historical, mystery… usually anything that one of my two book clubs picks. Those are some of my all-time favorites. Because Book Haven is a story about a book store, I used quotes from books, and created a reading list for my main characters at the back of the book. I added my own 12 author favorite picks. I also included Book Club Discussion questions. I visit book clubs. That is something very special to me, to get to listen to my readers.
Lydia: How did you get your start in writing?
Kathy: I wrote essays in grammar school. In high school, my English teacher, Sr. Jane Golden, encouraged me to write stories. In college I wrote all the time. In my early marriage we lived in England for three years. I wrote song lyrics and poetry while living there. When we returned to the States, I switched to non-fiction for ten years, then I switched to fiction.
Lydia: What advice would you give writers who are struggling with their first novel?
Kathy: JUST KEEP WRITING! Don't give up, keep going back to it and don't throw anything away. File it! Let your creative juices flow freely before hacking away at ANYTHING!
• • • • •
Once again, if you'd like to enter for a chance to win a free copy of Lake Cottage Book Haven, sign up for our mailing list below! You can visit Kathy's website by clicking here, and follow her on Facebook, Twitter, and Instagram. If you'd like to purchase the first book in the On Water's Edge Tahoe Trilogy, you can do so at Amazon by clicking here. Kathy and I would love to hear from you! Be sure to share this post, and comment below.